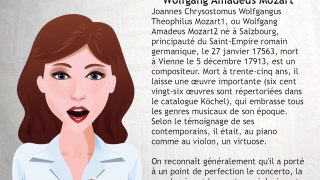 Joannes Chrysostomus Wolfgangus Theophilus Mozart1, ou Wolfgang Amadeus Mozart2 né à Salzbourg, principauté du Saint-Empire romain germanique, le 27 janvier 17563, mort à Vienne le 5 décembre 17913, est un compositeur. Mort à trente-cinq ans, il laisse une œuvre importante (six cent vingt-six œuvres sont répertoriées dans le catalogue Köchel), qui embrasse tous les genres musicaux de son époque. Selon le témoignage de ses contemporains, il était, au piano comme au violon, un virtuose.

Lire la suite ici: https://fr.wikipedia.org/wiki/Wolfgang_Amadeus_Mozart

Voir plus de vidéos similaires ici: http://www.dailymotion.com/playlist/x48q1o_wikivideosfr_musiciens-et-groupes/1

Regarder plus de vidéos sur Wiki Videos: http://www.dailymotion.com/wikivideosfr

Suivez nous sur Facebook :
https://www.facebook.com/WikiVideoProductions

Suivez nous sur Twitter : https://twitter.com/VideosWiki

Notre site : http://www.wvprod.com

Cette vidéo et ses contenus sont la propriété exclusive de WV Production Limited.

WikiVideos and all related characters and elements are trademarks of and © 2015 WV Production Limited. All rights reserved.
Posted 7 years ago in
Education